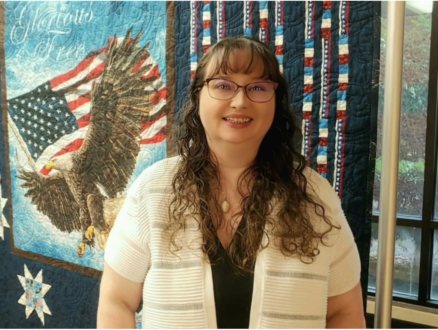 Background
Educational Background:
Estacada High School, Estacada, Oregon
High School Diploma, June 1996
Honors: National Honors Society
Activities: Junior Class Representative, Senior Year Student Council and Dance Team
Northwest Nazarene University, Nampa, Idaho
Bachelor of Arts, magna cum laude, Political Science, May 2000 GPA—3.8 / 4.0
Honors: Academic Dean's List for 10 Terms; Honors Scholarship; Phi Delta Lambda; Published Paper in Cornerstone, 2000
Activities: Compassionate Ministries Club; President and Co-founder, Political Science Club; Delegate (1998) and Head Delegate (1999), Model United Nations, WestMUN
Special Programs: American Studies Program, Policy Study/Internship, Washington, DC 1998
Willamette University College of Law, Salem, Oregon
Juris Doctorate, magna cum laude, May 2003
Cumulative Class Rank: 4 / 130 GPA—3.98 / 4.30
Honors: Legal Research and Writing; High Papers: Contracts I, Contracts II, Business Organizations, and Payment Systems; Dean's Honors List (Top 10 percent); Trustees' Scholarship
Activities: Willamette Law Review, Member, 2001 and Form Editor, 2002; Multicultural Law Students Association; Willamette University Public Law Interest Project; Third Year Class Treasurer
Occupation: Self-employed entrepreneur and independent caregiver
Occupational Background: Attorney, Business Owner, Office Manager, Assistant, Health Coach, Librarian, Law Clerk, Plant Worker at Milk Plant in Yogurt Room
Community Service:
Clackamas County Party – Precinct Committee Person (Elected 2016 to Present).
Estacada Area Community Events – Director (2005 – Present) and Secretary (2007 – 2012 and 2014 – Present). Formed new nonprofit with community members to continue the July 4th Festival that the Chamber cancelled. We added back the Timber Festival.
Ford Institute Leadership Program – Community Ambassador, Estacada Cohorts 2 & 3 (2013 – 2016) As one of the Community Ambassadors I assisted in the facilitation of the Leadership training and project.
Branding Committee for the City of Estacada – Member (Jan. 2015 – Jan. 2016).
Ford Institute Leadership Program – Participant, Estacada Cohort 1 (Sept. 2011 – Dec. 2012).
Downtown and Riverside Advisory Committee for Estacada – Member (2010 – 2011).
Estacada Community Foundation –Director (2009 – 2012) and President (2010 – 2012).
Estacada Development Association – Director (2009 – 2012) A Main Street Program.
One of EDA's biggest accomplishments is the remodel of Broadway Street.
People have told me for years I should run for office and I have thought that perhaps one day I would. Recently a couple of people have said I should run for Congress this year. I have prayerfully considered it and have decided that now is the time. I believe I am uniquely qualified to run for Congress and win the seat. During college I interned for a semester in Washington, D.C. and studied policy. I am a trained lawyer and I am used to fighting for and representing the interests of my clients. I have training in leadership through the Ford Institute Leadership Program, which is an influential program that benefits the community, so I become a facilitator and teacher of the program for two different years as a Community Ambassador Trainer. I have always been interested in and followed politics. At age 10, I helped in the campaign of a family friend. When in High School I was Junior Class Representative and during Senior year I was in the Student Council class. In college, I co-founded and was the President for the Political Science Club and I was a Delegate one year and the next year Head Delegate to the Model United Nations. My third year of law school I was the class Treasurer. However, I am not a politician by the classic definition. I believe in keeping my promises and speaking the truth. I will not say whatever it takes to get elected
Since I am currently self-employed, I can take as much time off as needed to devote to the campaign. I believe it is important for this district to have someone who is connected to the community to representative the district. It is interesting how that Congress Representatives go into office with average salaries and are there for years and years with Representative's salaries and become multi-millionaires. I do not believe that a politician should be able to become a millionaire while in office unless they have another source of income, which they must declare.
I am running to bring common sense and actual citizen representation back to this district. Please visit my issue page to see where I stand on the issues.